Find the Wood Slab to Match the Vision for Your Live Edge Fireplace Mantel Project
If you're looking for a great way to spruce up a boring fireplace, consider making a live edge mantel. Live edge wood slabs have become increasingly popular in the world of interior design and can add a beautiful natural charm to any home.

Here at Old Fashioned Lumber, we have an impressive inventory of Live Edge slabs that would make for stunning live edge mantels. We offer a wide variety of sizes, thicknesses and types of wood. Whatever your preferences may be, we can help you find the right style of wood to compliment the décor of your home.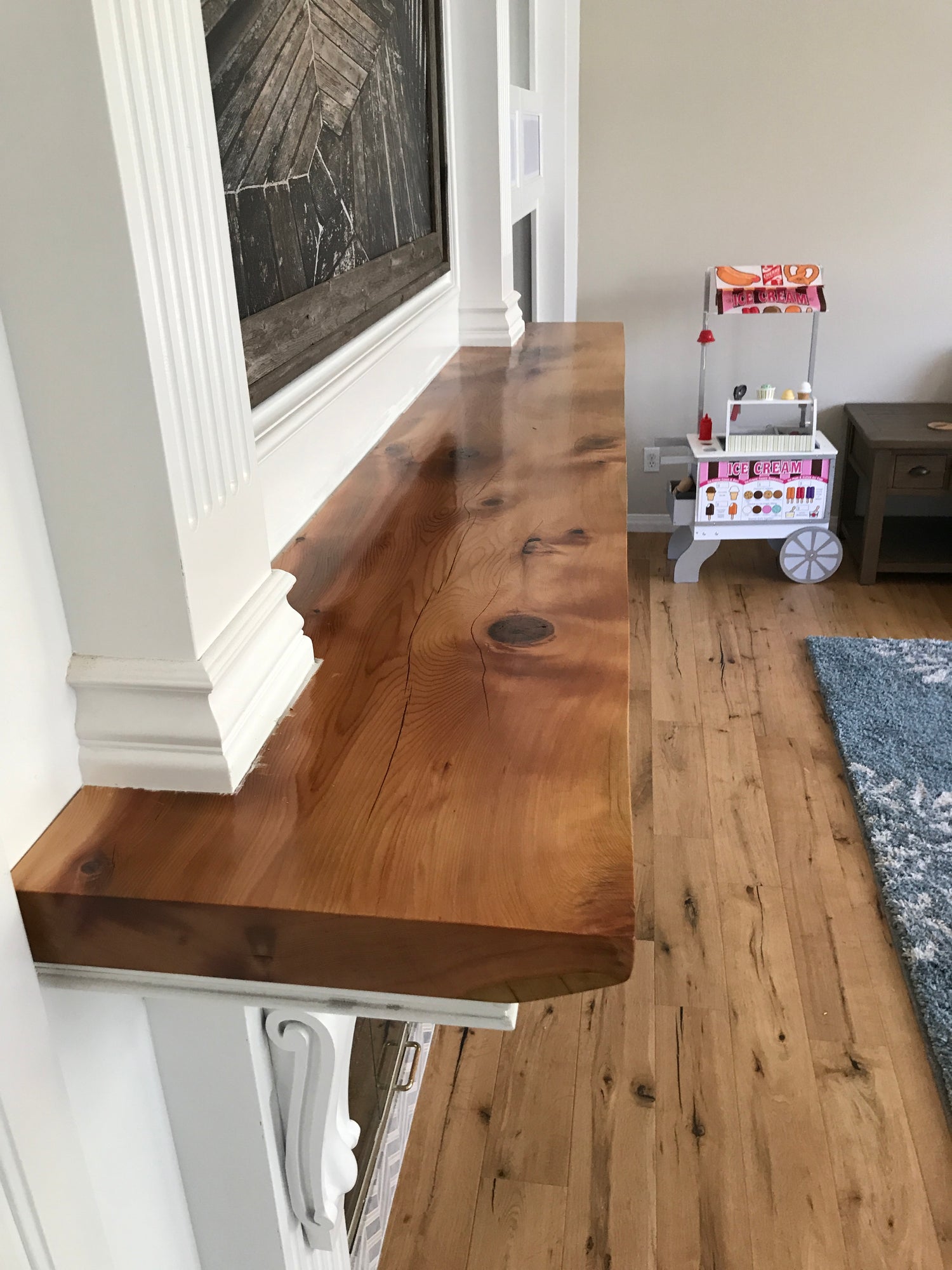 High Quality Wood to Create a Perfect Live Edge Mantel
Old Fashioned Lumber provides high quality, sustainable wood that meets quality standards. Our wood slabs are closely scrutinized and virtual listings ensure there are no discrepancies between the slab itself and the product images.
Request A Quote
Helpful tips for selecting your fireplace mantel or shelf wood type
We currently stock lumber boards and live edge slabs in the following wood types: walnut, maple, oak, cedar and more. Our products range in price to accommodate many different budgets. We have the most expansive inventory available online so we can provide the live edge mantel slab you're looking for.
Cedar

If you have a preference for a very rustic style, Cedar is a great choice. Cedar typically contains small knots which add a homey feel to any fireplace mantle. Eastern Red Cedar is made up of red and white shades and can be very beautiful as a fireplace mantel.

Douglas Fir

Douglas Fir is a popular choice for live edge mantels because it has a unique, swirling grain pattern and a beautiful natural color. Douglas Fir wood is also known for its durability and strength, which makes it a great option for a fireplace mantel. A Douglas Fir live edge fireplace mantel adds a natural, organic feel to any space. The irregular edges and natural variations in the wood grain give the mantel a rustic, one-of-a-kind look that can't be replicated with manufactured materials.

Oak

An oak live edge fireplace mantel is a stunning and functional choice for anyone looking to add warmth and character to their home's decor. Oak is a popular choice for live edge mantels because it has a distinctive, prominent grain pattern and a warm, inviting color.
Due to the natural characteristics of live edge slabs, mantels can vary in width within the length of a single board. This variation in width is determined by the original shape of the log. Narrower mantels can range from about 7 inches wide, or you can select a wider mantel of about 12 inches or more. Most live edge style mantels are around 3.5 to 4 inches thick.
Choosing a Style for Your Live Edge Mantel or Shelf
There are three common styles of mantels that are popular to make. The styles are determined by the appearance of the forward surface of the mantel that is facing outward and on display. Unleash your creativity and choose a live edge mantel style that will match the design of your home.
Square Face Mantel

The first style of mantel is square face. Square face is a traditional look and is flat on each side. Square face style mantels are solid wood boards and exhibit the same grain pattern on the bottom, top and face of the mantel.

Natural Face Mantel

The second style is referred to as natural face. Natural face shows off the unique character of the wood and the shape of the log. It may also include marks such as knots or worm tracks.

Bark Face Mantel

Bark face style mantels are a result of when the bark sticks to the wood as it is made. These are perhaps the most rustic looking out of any other style and difficult to find.
How to Install Your Live Edge Mantel or Shelf
Select Your Slab & Size

When selecting a live edge slab or other wood lumber to create your fireplace mantel the first step is to measure your fireplace surround. You will want to determine the maximum length you need. If you are mounting onto a brick fireplace, then you will want to drill your holes further from the edges so that you don't create cracks.

Next you will decide the size of mantel you want. This includes length and depth. Experts recommend making your mantel 10 inches or less because of weight. You will also need to determine where your mantel will be placed. Anywhere between 52 and 58 inches high is where mantels are most commonly mounted. Create a mark in the middle of the fireplace at the height where you wish to mount.

For New Fireplaces...

Depending on your home and style of fireplace the installation of your wood board mantel may vary. For new fireplaces, you can install your mantel before the stone or brick and attach a support system that will be hidden when the stone or brick is added. You can also use construction cement. After you install the mantel, brick or stone can be placed around it.

For Existing Fireplaces...

For existing fireplaces, the best installation method is to drill holes directly into the mortar joints. Use a hammer drill to put holes where you have marked off. You want to be sure to drill perfectly straight, so the installation is effortless. This is where you will install the mantel using one-inch rods in combination with pressure cement or anchors. You can use a hammer to drive a setting tool into the shoulder of the anchor to expand it against the brick and create a durable mounting spot for your bolts. Next you will need to mark and cut your bolts to the right length. The length of your bolts will be determined by the depth you want. You can cut your bolts using an angle grinder and metal cutting wheel. It is easiest to cut your bolts while they are placed in the holes. You will line up the mantel with the rods, drill matching holes into the mantel and lay it on top of the bolts. You need to be sure that your bolts are all angled correctly, or you will need to straighten them.

Finally...

Finally, push your mantel onto the bolts. You can use small brackets on the corners to steady the mantel, or you may use construction cement to keep it in place.

After all the hard work is done, you can enjoy displaying your unique and beautiful wood fireplace mantel masterpiece.
TIPS HOW TO CHOOSE RIGHT LIVE EDGE MANTEL
How thick should a live edge mantel be?

around 3.5 to 4 inches thick
How do I choose a fireplace mantel?

Width:The mantle should be wider than the fireplace — typically 3 to 6 inches wider than the firebox on each side. You can choose to go wider, but it's best to keep the mantel width proportionate to the room size and the fireplace. Height: The standard mantel height is about 4-1/2 feet above the hearth's floor.
Should your mantle match your floor?

Many a time, people try to use a colour for their mantel that matches the colour of the floor. They do so to ensure that their room looks visually appealing. Matching your mantel with the floor is not absolutely necessary.
Should the mantle be longer than the fireplace?

A safe route is to make it 12" longer than the fireplace box. For instance, if your fireplace box is 42" then you would order a 56" long mantel. The majority of mantels we sell are from 66"-78", but we make every mantel custom to your unique space.
How high should a wood mantle be above the fireplace?

Again, "proper" height is relatively subjective to your fireplace, but average or standard fireplace mantel height construction is around 54" above the hearth's floor.
How do you style a modern fireplace mantel?

Create a focal point with one large piece. Hang a round mirror, a large piece of art, or a TV above the mantel. ...
Decorate with decor items of varying heights. ...
Decorate in odd numbers. ...
Add some greenery. ...
Choose paint colors last.
How do you protect a wooden mantel from heat?

Mantle heat shield can be used to protect fireplace mantles from excessive heat and damage. They may also be used to shield TV's and sound bars located above a fireplace. This heat shield reflects and dissipates the heat radiating up and out of your fireplace.
How much weight can a fireplace mantel hold?

How much weight will a mantel shelf hold? The general rule for floating shelves or floating mantels is that it can hold 50 lbs for every stud it's attached to. For example, if you hang our 36" mantel onto two studs, it should safely hold 100 lbs.