Live Edge Dining Tables
Each and every one of our live edge tables is crafted with utmost excellence in mind. Our core mission revolves around the fusion of the raw power of nature with the exceptional artistry of human craftsmanship. This involves selecting prized wood that is sourced locally and sustainably, and then meticulously transforming it into a work of furniture art tailored to the specific requirements of our clients. We take pride in not cutting corners at any stage of the process, as evidenced by the enduring popularity of our beloved creations, such as the live edge walnut table. Our unwavering commitment to superior craftsmanship is driven by the deep satisfaction we experience when one of our natural edge tables finds its rightful place in your home or office.
Exemplary Artistry From Beginning To End.
Every aspect of creating our live edge tables is meticulously considered, starting from the very beginning. During the sourcing process, we go to great lengths to ensure that our raw materials are not only perfectly suited for the project but also ethically produced. We acquire hardwoods such as Claro walnut, white oak, redwood, cedar, and occasionally other species from various regions within the United States. Our primary source of wood slabs for our natural edge furniture is California, located within 500 miles of our San Diego workshop. This proximity allows us to supply finished products that meet LEED and US Green Building Certification requirements.
Once we have acquired the ideal wood slabs for our tables, we move on to the preparation stage. The slabs are carefully air-dried for up to two years, ensuring the removal of residual moisture. Subsequently, they undergo a heated kiln process, which can take an additional three months to further eliminate any moisture content. Afterward, the slabs are meticulously planed and undergo an acclimation period of up to a month in our San Diego workshop, ensuring they adjust to the local climate. Only at this stage is a raw slab deemed ready to undergo the transformative process that turns it into a beautiful, solid wood table.
The journey of crafting the perfect live edge walnut table extends beyond its physical construction. We believe in ensuring its longevity, making it a timeless piece. To achieve this, each of our live edge tables undergoes meticulous protection with multiple layers of deep sealer and is carefully finished with top coats. This process not only enhances the natural beauty of the wood grain patterns but also highlights the unique characteristics found in our black walnut. These naturally occurring features are an intrinsic part of the table's allure, creating a finished work of art that exudes the organic charm of the live edge wood.
Live Edge Table Product Specifications
When it comes to your live edge table, Old Fashioned Lumber goes above and beyond to deliver true customization. We veer away from the ordinary, choosing to tread the path of the extraordinary. Our Old Fashioned Lumber Signature live edge tables are meticulously tailored to meet the specific desires of our customers. Whether you seek a live edge conference table for a corporate setting or a dining table for your home, we ensure that your Old Fashioned Lumber masterpiece aligns perfectly with your vision.
To achieve this high level of customization, we engage in direct consultations with prospective clients. From our location in San Diego, California, we collaborate with you to envision the ideal live edge walnut table that caters to your exact needs. Every client harbors a unique dream for our live edge tables, whether it be a captivating centerpiece for your home, the core element of your restaurant's interior, or the perfect meeting table for your office.
To ignite the brainstorming and creative process, we provide the general product specifications for each Old Fashioned Lumber American black walnut live edge wood table:
Collapsible content
Tabletop

The tabletop of our live edge table is crafted from American black walnut, showcasing its captivating natural beauty. Alternatively, we offer tabletop options in white oak, cedar, and exotic woods for those who desire a different wood species. Instead of conforming the wood into a strict rectangular shape, we embrace and preserve the natural contours and edges of the material, allowing the piece to exude a distinctive and organic ambiance.
Base

Select from a variety of base options for your live edge walnut table. For a complete list of available choices, kindly contact us via email.
Dimensions

Our single slab tables typically range from 70 to 168 inches in width and 30 to 60 inches in depth. However, we are more than willing to customize these measurements to suit your specific requirements, including accommodating requests for larger dimensions for your live edge table.
Location

Every single one of our natural edge tables is meticulously handcrafted to order in our workshop located in San Diego, California.
Turnaround time

Given the intricacies involved in crafting our free edge tables, we kindly request a lead time of approximately six to ten weeks to ensure the utmost attention to detail and deliver a superior finished product.
Shipping

We take great pride in our local roots while maintaining strong connections on an international level. Our services cater to the needs of our local community in San Diego, and we also offer shipping options to customers throughout the United States and around the world.
Leg Options
Whether you have a preference for the popular wishbone leg, canted or v-leg designs, or if you desire a unique and custom base design, we guarantee that the base of your live edge walnut table will be as visually appealing as its exquisite top surface.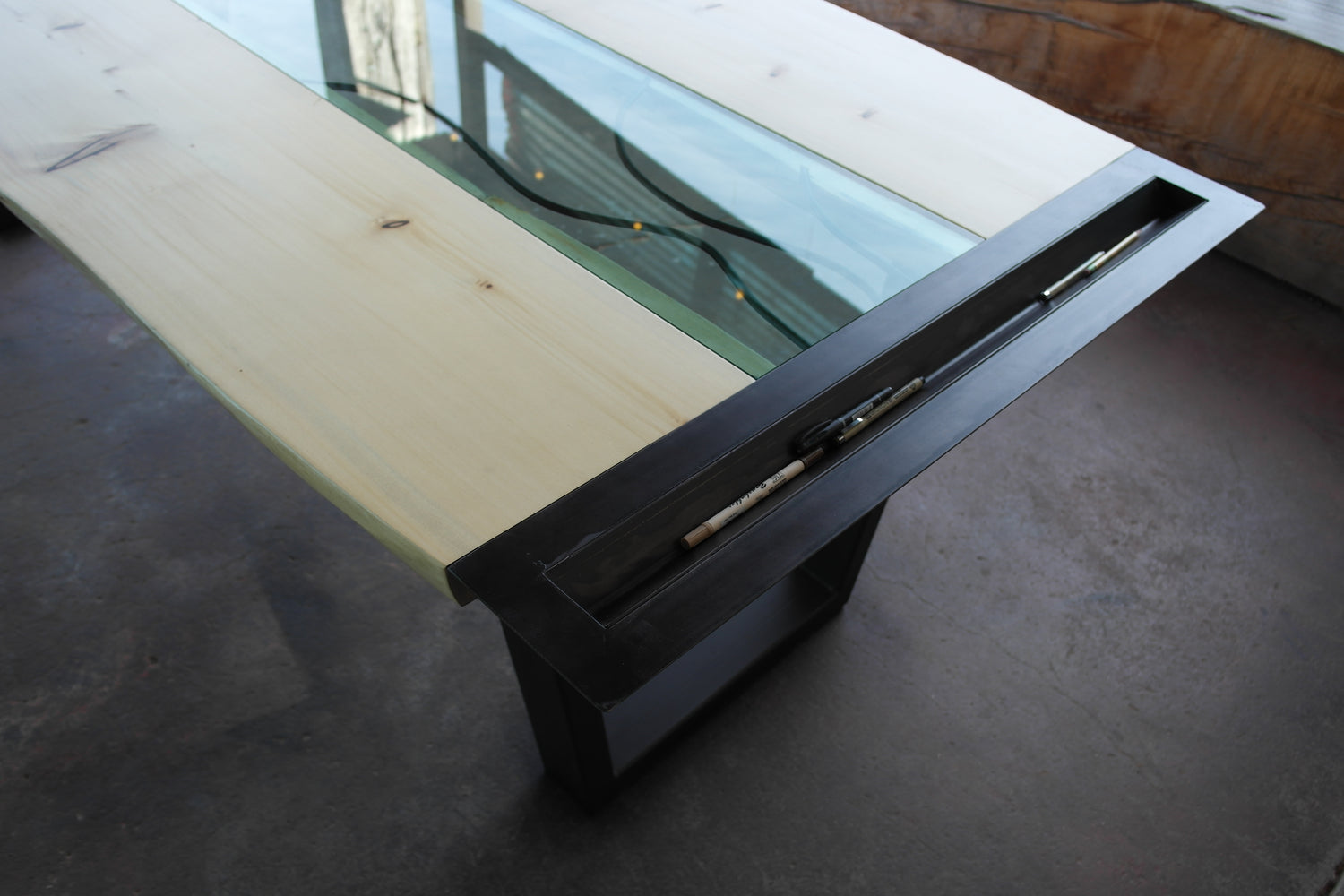 Live Edge Wood Table Design and Fabrication
At Old Fashioned Lumber, each live edge table is thoughtfully designed and meticulously crafted through a collaborative and engaging process with our customers. Our discussions with clients are informative, collaborative, and instructive, creating an atmosphere that is reassuring and enjoyable. During these discussions, the customer provides valuable input regarding the desired size, leg choice, wood species, and other specific design details for their live edge walnut table.
Based on the information shared, we create a computer rendering of the table, presenting a visual representation of the specifications discussed. This rendering allows our clients to have a simulated preview of their live edge table before it is physically fabricated, enabling them to make any final changes or adjustments to their design. Client approval of the rendering is a crucial step in the process, ensuring that the design meets their vision.
We view our clients as integral partners in the design process, as their tastes and needs guide our artistic skill and craftsmanship. This collaborative approach ensures that our live edge wood tables are not only stunning works of art but also perfectly tailored to the preferences and requirements of each individual client.
Pricing & Inquiries
Final Touches, Quality Assurance, and Shipping
Our meticulous finishing process is designed to reveal the timeless beauty of the wood grain and natural color inherent in each slab. Rather than artificially adding elements to the wood, we focus on uncovering and enhancing the inherent delights embedded within the material itself. At our workshop, we have developed a water-based clear finish that we strongly recommend for all our customers as part of their unique project. Through our experience, we have found this to be the optimal choice for achieving the desired finish on our Old Fashioned Lumber signature live edge tables.
When you run your hand over the tabletop, you can still feel the texture of the wood grains, even though the table is sealed and protected. This is achieved through the application of multiple sealer coatings and topcoats, followed by meticulous sanding and repeating the process. The result is a deep finish that appears remarkably clear and minimal. It exudes an air of elegance, sophistication, and polish, allowing the subtle details of the wood to shine through.
After the fabrication and finishing stages, every live edge wood table undergoes careful assembly and thorough inspection. Once it receives our approval, the table is disassembled, meticulously wrapped, and prepared for either local delivery or shipping to destinations beyond the Tristate area. For long-distance transportation, we take extra precautions by securely packing the table into a robust shipping crate to ensure its safe arrival.
Pricing and Inquiries
If you're eager to begin the fabrication process for your live edge walnut table or would like further information regarding pricing or our products, we encourage you to reach out to us. We are delighted to guide you through the various options and answer any inquiries you may have. To fully experience our absolute pride, we invite you to schedule an appointment and visit our workshop, where you can witness firsthand the beauty of our natural edge tables.